Who is ADHO? In CoreDH, you can listen to and read interviews with representatives from ADHO's Constituent Organizations: learn about our organizations, their major projects and challenges, as well as individual members' research. This series was prepared by Erdal Ayan and Anna Sofia Lippolis (Communications Fellows) with Hannah L. Jacobs (Communications Officer).
Episode 1: Evelyn Gius, DHd
Episode 3: Menno van Zaanen, DHASA
Episode 2: Jennifer Isasi & Lorena Gauthereau, ACH
In this episode we hosted two experts from The Association for Computers and the Humanities (ACH) Dr. Jennifer Isasi and Dr. Lorena Gauthereau. We talked about ACH, digital archives, data curation and digital tools for research in DH.
Episode 4: Jonathan Girón Palau, Red_HD
In this episode we hosted Jonathan Girón Palau from La Red de Humanidades Digitales (Red_HD) and talked about his role, motivation and work in DH as well as DH organization/community he is working for.
You might also be interested in…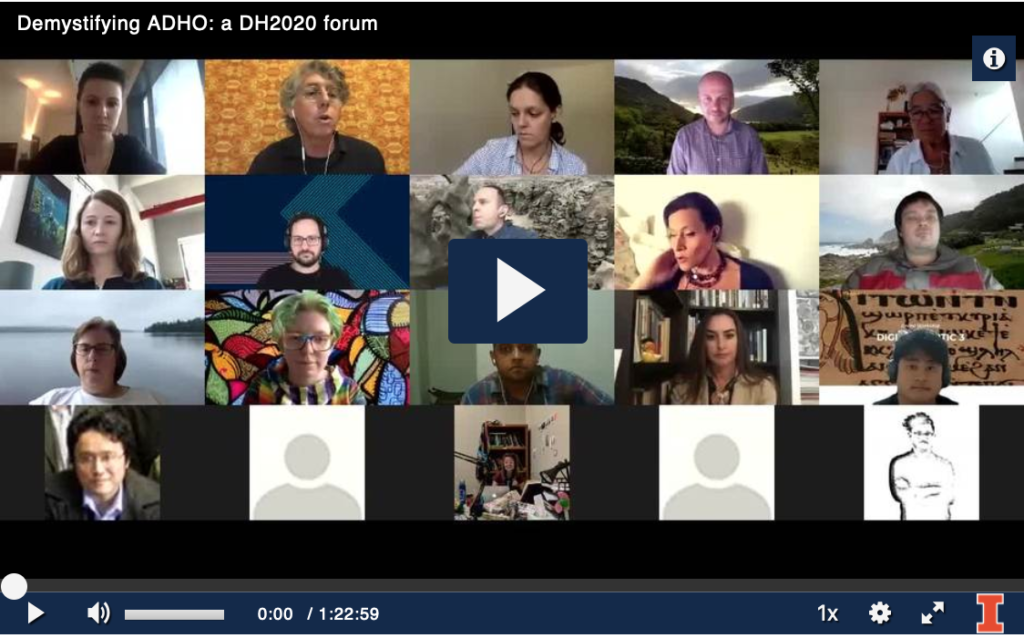 This forum, held July 22, 2020, as part of the virtual Digital Humanities 2020 conference, brings together people with "insider knowledge" of the Alliance of Digital Humanities Organizations (ADHO), based on their participation on multiple committees and in leadership roles in both ADHO and a few sample ADHO's Constituent Organizations.